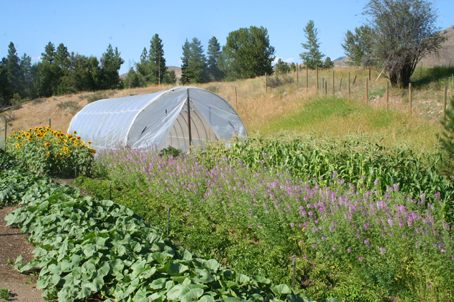 products: arugula, basil, beets, broccoli, cabbage, cantaloupe, carrots, chard, corn, edible pod peas, eggplant, green beans, honey, Italian parsley, kale, leeks, lettuce, onions, parsnips, peppers, potatoes, pumpkins, raspberries, strawberries, summer squash, tomatoes, winter squash
about us: We are a smallish, 1/2 acre farm on the banks of Methow River between Winthrop and Twisp. We are interested in sustainable human culture and sustainable wildlands. To that end, we grow food using a minimum of fossil fuels and work for a maximum of soil health.
where to find us: Twisp farmer's market, Glover Street market, and at the farm!
contact: Dana Visalli
509-997-9011
dana@methownet.com
www.methownaturalist.com
293 Eastside Road, Winthrop
PO Box 175 Winthrop WA 98862